The New Product Center is one of the most heavily visited areas of the show each year, with both buyers and Media in search of what's new at the show.
It's the most extensive collection of new shooting sports, hunting, outdoor accessories and equipment ​with more than 400 featured products at the 2023 SHOT Show. While visiting the New Product Center, industry members use the SHOT Show Mobile App to scan the products they like to quickly receive product details, manufacturer information and exhibit location. Here are some of the most scanned products from day 3 of the 2023 SHOT Show.
Breakthrough Clean Technologies
Company: Allen Company
Allen® Company, a leading manufacturer and brand of outdoor products is excited to announce the acquisition of Breakthrough Clean Technologies®, an innovative manufacturer of firearm and outdoor gear cleaning products.
Breakthrough Clean Technologies® was started in response to the ever-growing need for more effective, odorless, environmentally friendly, and user-safe cleaning solvents and lubricants that work efficiently and safely to remove the build-up of contaminates on firearms. Utilizing Breakthrough's continual commitment to excellence and state-of-the-art research, we now provide a complete gun care maintenance system geared to make cleaning and maintaining your firearm easier, safer, odorless, and faster than ever.
Please see our entire line-up of chemicals, cleaning kits, cleaning ropes, tools, and accessories at the Allen Company / Breakthrough Clean Technologies – Booth 13021.
MDT ACC Elite
Company: MDT Sporting Goods
We are excited to announce the launch of the newly designed MDT ACC ELITE Chassis. The MDT ACC Elite takes everything that we have learned from the development of the ACC Premier, as well as the combined knowledge, experience, and input of Team MDT, and combines it into the ultimate competition chassis.
Improvements include:
Improved stronger and longer forend
An adjustable magazine well and latch
Extended magazine well barricade stop
SRS-X Elite Buttstock
MDT Elite Vertical Grip with connector bar
Adjustable thumb rest
Price: $1599.95
Multi-Use Variety TargetTack™ Packs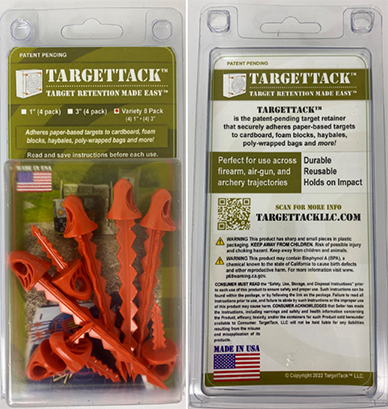 Company: TargetTack LLC
Our patent pending Multi-Use Variety TARGETTACK™ Pack of 8 MADE IN USA, includes four 1-Inch and four 3-inch TARGETTACK™ perfect use in adhering paper-based targets, for target shooting, with various firearm, airgun and archery trajectories, across a variety of cardboard, styrofoam blocks, polyfusion blocks, poly-wrap bags, foam blocks and hay bale substrates. We also offer 1-inch and 3-inch TARGETTACK Packs of 4 sold separately. We offer wholesale and retail pricing options.
Four 1-inch or Four 3-inch TargetTacks are required to properly secure and hold in place, commonly used paper-based targets, for supported substrates. If you are using larger sized targets, over 16 inches tall and wide, you may require additional TARGETTACKS to securely hold and/or minimize wind movement of larger sized paper-based targets based on substrate used. Please read and save instructions with warnings, before each use to ensure safety, proper use, storage and disposal instructions are followed.
Price: $27.95
P365X / P365XL Grip Module
Company: Sharps Bros.
Machined from billet 7075-T6 Aluminum. Matte black cerakote finish. Brazilian Cherry grip panels.
Features:
Enhanced trigger-guard geometry with undercut and finger grooves for improved comfort and control
Ambidextrous gas pedals (both sides). This allows for a thumb ledge and a natural indexing point regardless of dominant hand.
The stock Sig module is 1.1″ wide in the grip, our module is 1.3″ wide allowing for a more robust feel in the hand without compromising concealability
M1913 Picatinny accessory rail
Flared magazine well
weight: The OEM polymer X/XL grip module weighs approx. 1.4oz. Our grip module with wood panels weighs approx. 4.6 ounces. The extra ~3ounces is barely (if at all) noticeable while holstered, but while shooting it helps reduce felt recoil
Direct replacement of the Sig Sauer OEM standard polymer P365X and P365XL grip module
Any model P365 slide (P365, P365X, P365XL or P365 X-Macro) is compatible with the Sharps Bros grip module